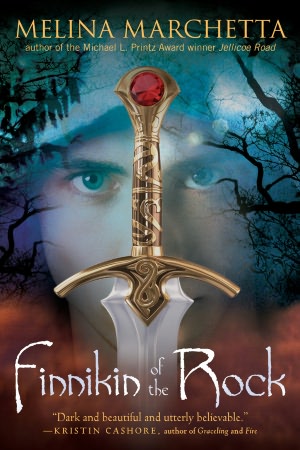 This high fantasy novel by the author of
Jellicoe Road
(one of my favourite books of all time) tells an incredible story in beautifully-crafted writing.
Finnikin was only a child during the five days of the unspeakable, when the royal family of Lumatere were brutally murdered, and an imposter seized the throne. Now a curse binds all who remain inside Lumatere's walls, and those who escaped roam the surrounding lands as exiles, persecuted and despairing, dying by the thousands in fever camps. In a narrative crackling with the tension of an imminent storm, Finnikin, now on the cusp of manhood, is compelled to join forces with an arrogant and enigmatic young novice named Evanjalin, who claims that her dark dreams will lead the exiles to a surviving royal child and a way to pierce the cursed barrier and regain the land of Lumatere. But Evanjalin's unpredictable behavior suggests that she is not what she seems — and the startling truth will test Finnikin's faith not only in her, but in all he knows to be true about himself and his destiny.
It is the story of a boy -young man- who has to make a journey in order to save his country and his countrymen. I admit, it was a little hard to get into at first, but after the first five or so pages, I was sucked right into the story. The adventure is breathtaking, with a lot of fight scenes, sword-fighting scenes, chace scenes, escape scenes and so on.
Of course, there is a great mystery to unfold, which was written exquisitely, uncovering pieces slowly and tantalizingly of another large story which is the entire backstory of the novel. I absolutely loved these kinds of stories, where you discover all the pieces to the puzzle, and by the last page you finally understand the whole picture. I also adore the kind of truth that was revealed at the end. It simply made the story that much more interesting and meaningful. This is just exquisite writing, where the whole book is crafted intricately into a close-woven thread and everything falls into place by the end.
The romance was intense, although not a dominating part of the book, and the heroine, Evanjalin, was one of the bravest and cleverest heroines I have ever read about. She is strong but her strength is not shown in a way that makes you dislike her. She is stubborn, but only because she knows what she is doing, and by the way, her self-confidence is one of her best traits. She is als vulnerable, however, and I loved the fact that this was the first thing that attracted Finnikin to her. At least, seemingly the first thing.
Finnikin was a hero that grew from a frightened and disillusioned boy into a true hero, fighting his battles and protecting those he loves.
This was an excellent read, and, needless to say, as soon as my younger brother saw the cover, he pested me until I had finished it and lended it to him. I think it is as appropriate for boys as for girls.
Rating: 5/5